Available to view online now, Masks is a new short film by Dublin filmmaker Conor Tobin, made in 2020 in an attempt to capture the complex, conflicting feelings that have emerged in us all in our experience of the last 18 months.
It was easy to feel, in the early period of lockdown, that the last thing that we needed was movies exploring the pandemic, especially if they were going to be quickfire Michael Bay brainfarts or Imagine-adjacent star-filled misfires. But every huge sociological event deserves to be examined via art, and when processing support on a national level is confined to "ye can go to the pub now shut up and leave us alone", all we can do is make sense of this all with each other. Tobin's experimental short addresses this, telling the story of a young woman Saoirse, played by Angel Hannigan, on her way to town for a pint in late 2020, trying to ward off her own melancholic reaction to, you know, everything.
Whilst the pandemic rages, Saoirse rides a train into the city, determined to get a pint, but also determined to ward off her own melancholic existential thoughts. In the pub, we meet a host of characters; a woman waiting for a date, two good friends and their bored girlfriends, a waitress who'd rather be anywhere else but there. A sense of magic hangs in the air in this pub. Little moments seem grand and strange as Saoirse considers making contact with the guy sitting at a nearby table.
With the short now available to view online, we sent a few Qs Conor's way, to get a sense of the man and the motives behind Masks.
Film In Dublin: Many of the Covid related films we've seen to date have focused on the 'lockdown' experience, explicitly or otherwise, whereas Masks is one of the first I've noticed to deal with coming back into the world. What drove the particular focus of the short?
Conor Tobin: Lockdown obviously affected us in strange ways, but in my own personal experience of it, I always settled down into a routine of sorts, however begrudgingly. The end of lockdown, especially the first one, was full of excitement, even if it was just small things like going to the pub for the first time in ages. It is this transitional moment that I wished to examine. The most magical moments there are perhaps!
FID: What was your experience like going back and forth with the actors over Zoom?
CT: I have to say that without this group of actors and actresses the movie wouldn't be half of what it is. I cast Angel in the lead role of Saoirse first, Áine in the role of Bríd next. Most of the others were actually recommended to me by Angel was they were all Bow Street alumni. Mostly it was handled through email, where I'd lay out what the characters are about and what I expected from the actors. For instance, I encouraged Shane and Darragh to improvise and that worked out amazingly well. They knew they had to hit certain beats, such as conspiracy theories surrounding lockdown, the Oasis song, etc, but I left it up to them how they got there. Beyond that we worked a lot of it out on the day.
There was one exception to this. For Angel and Donall's final meeting out the back of the pub, we zoomed a number of times, work shopping the dialogue so that when we got there it was on point. That was hugely informative and really help me shape the dialogue into something more natural and fluid. It helps that they're such great actors too! I learned a lot from them.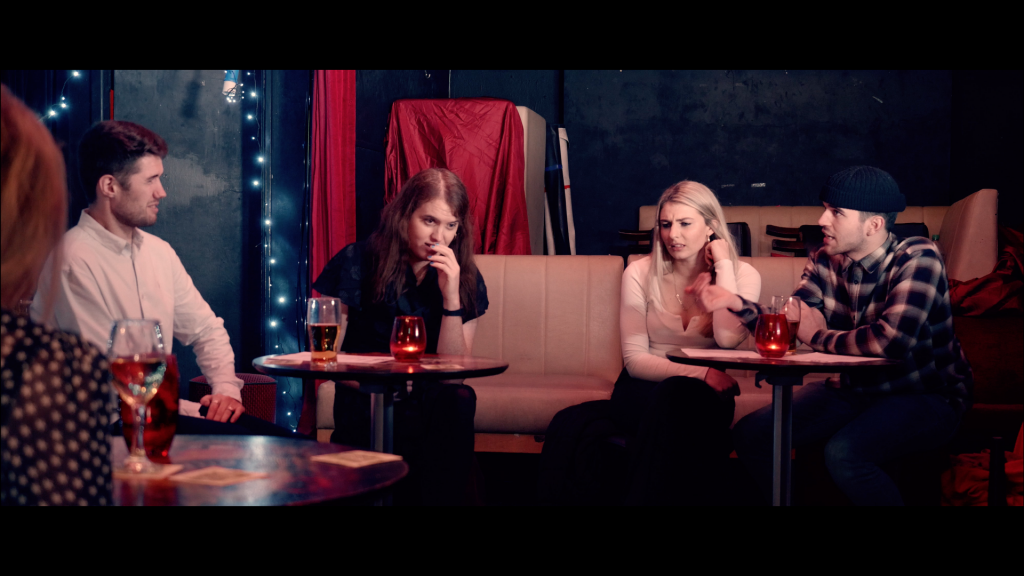 FID: How might the experimental approach used for Masks influence your work going forward?
CT: I have always leant toward experimental filmmaking and the future projects I'm planning will be no exception. In actual fact, Masks is probably my most straightforward film to date. I wanted it to have an air of magical realism without anything extraordinary actually happening. This is something that I'm really interested in and I think that this is the aspect of Masks that will influence my work most going forward.
FID: How do you weave the inspiration of the likes of James Joyce into a story like this when you're writing it?
CT: Joyce is a massive influence on me, though not directly. I like what he was trying to do. To show small moments from people's lives and imbue them with an epic quality. Also his stream of conscious style, weaving from character to character, seemingly connected only by the space they are in, but yet touching on each others lives, if only minutely and briefly.
FID: The last 18 months have posed considerable challenges for the film industry. Are there any particular challenges for those working on smaller budgets and on short films that you think should be addressed?
CT: It has been hugely challenging for Filmmakers everywhere. Simply getting a project together is more difficult than ever. Scheduling can no longer be relied upon in the same way, as people's availability is more up in the air and subject to change than ever before. Masks, for instance, was what I like to call a piecemeal shoot in the sense that we shot a scene at a time here and there depending on restrictions and availability.
On the positive side of things, once restrictions were eased there was an explosion of activity. Everyone was eager to get going again. I'm mostly known for my camerawork and I've been flat out over the last while.
FID: How and where can people watch Masks?
CT: It is available now on both Youtube and Vimeo. I decided to release it online as I feel that it is a film very much of its time, capturing the emotions and feelings we all experienced during lockdown. I felt that if I left it too long, or it got caught up in festivals, that its relevancy might dwindle the further we get from the lockdowns.
---
You can check out the short on both platforms below. Conor Tobin will be in conversation for this week's Fillum Chat with Emma Fagan, tonight Thursday at 10pm. These chats provide an outlet for Irish filmmakers and creatives to get the word out on their work, so do tune in for a tweet for more on Masks now its out.