This Valentine's Day, why not check out one of the all time great screen couples? Not Fred and Ginger, not Harry nor Sally, but Thelma and her best gal pal, Louise. Perfect if the thought of Valentine's Day has you like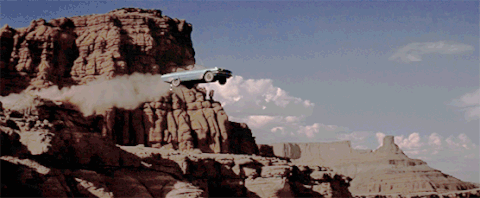 Directed by Ridley Scott (he of Blade Runner, Gladiator, Alien and most recently, All the Money in the World – review coming soon) from Callie Khouri's Oscar-winning screenplay, Thelma & Louise is a film whose reputation has only grown as the years have gone by, now hailed as one of the best road-trip movies ever made and a great cinematic depiction of close female relationships. Susan Sarandon and Geena Davis star as accidental outlaws who embark on a desperate flight across the Southwest after a tragic incident at a roadside bar ruins their weekend vacation and turns their getaway into a getaway.. With a determined detective (Harvey Keitel) on their trail, a sweet-talking hitchhiker (Brad Pitt, young and shirtless) in their path and a string of crimes in their wake, Thelma and Louise are determined to stick together and evade the toxic men that have dominated them for too long, no matter what.
The film will be screened at the Light House Cinema on Valentine's Day (Wednesday 14th Feb if you haven't got it in the calendar) and tickets are available now.