2016 was a weird year for cinema goers. With action-packed blockbusters crashing at the box office and long-awaited sequels falling seriously flat with both critics and fans alike, it seemed as if the smaller, more indie and low-key pieces of cinema would finally get the public acknowledgement they deserved. This did, for the most part, come true with critical darlings such as Hunt for the Wilderpeople, The Witch, Manchester by the Sea and Hell or High Water becoming commercial hits as well as serious award contenders. Although positive steps have been made, there seemed to be an uncontrollable level of noise in 2016 (whether it be as a result of buzz or critical backlash!), which resulted in other genuinely brilliant movies going unheard. As such, we here at Film In Dublin have decided to fly the flag and lend a voice to those brilliant films that you may have missed in 2016.
Midnight Special
Early on in the year, director Jeff Nichols (Take Shelter, Loving) and frequent collaborator Michael Shannon left a distinct mark on modern sci-fi. Set in rural Texas, Midnight Special follows a father (Shannon) and his son Alton (Jaeden Lieberher) who find themselves on the run from the government and a dangerous cult after news of Alton's special abilities becomes common knowledge. The film exists almost entirely on its own terms, dictating a slow-burning pace and withholding as much backstory as possible. However, this actually ends up working in its favour, allowing for the spotlight to shine on the incredible performances, the beautiful visuals and the true heart of the story, which most science fiction masterpieces prefer to focus on. Its got more in common with Close Encounters of the Third Kind than it does with the likes of The Fifth Element (which isn't to say that it is devoid of action!), but if you stick with it, Midnight Special is a rewarding, thrilling and exceptional piece of cinema.
 High Rise
It's hard to describe High Rise or even why we love it as much as we do! Adapted from J.G. Ballard's "unfilmable" novel of the same name, the movie chronicles the intertwining lives of residents living in the same high-rise building in a dystopian vision of the 1970s, as their lives descend into violent chaos. Outlining issues with social stratification in Thatcherite Britain, this apocalyptic parable sets about detailing the fall of society under one roof and how easy it all could be. In doing so, director Ben Wheatley (Kill List, A Field in England) delivers immaculate and ambitious visuals which capture the sheer chaos and destruction, while Amy Jump's script successfully conveys the absurdity of it all in a consumable, cinematic manner. It may not suit everyone's palate but High Rise is a horrifyingly captivating film, one that shows just how ambitious of a director Ben Wheatley is.
Tickled
Tickled unfortunately slipped under many people's radars in 2016, despite it being arguably one the most compelling documentaries of the last few years. After discovering a 'tickling endurance competition' online, New Zealand reporter David Farrier approaches the company in the hope of writing an article. What he receives instead is a series of personal attacks on his character and sexual orientation, as well as the threat of various lawsuits, should he decide to investigate further. Despite the threats, Farrier and his friend Dylan Reeve travel to Los Angeles where they discover the disturbing and haunting reality of the situation. To say any more about the film wouldn't do it justice, largely because of the fact that it needs to be seen to be believed! Farrier and Reeve's fact-driven and brave approach to the story grounds what is an almost unbelievable tale of power, corruption and deception, and has created one of the most unexpected and compelling documentaries of the year. You may have to pinch yourself while watching this one!
Weiner
This 'fly-on-the-wall' documentary follows former U.S. Representative Anthony Weiner's infamous 2013 mayoral campaign, in the aftermath of his widely covered 'sexting' scandals. With almost unlimited access to Weiner's political and social life, Elyse Steinberg and Josh Kriegman bring to light this bizarre story of collateral damage in American politics and the media whirlwind that ensues. With the story being covered on every American news channel throughout 2013, Weiner brings us a behind-the-scenes look at not only the downfall of this politician's career, but the panic and mayhem of the modern, American political campaign. Bordering between charismatic and pathetic, Anthony Weiner makes for an entertaining protagonist who is either trying to make up for his actions, or find a way to use them to his advantage. Insightful, hilarious and often jaw-droppingly honest, Weiner may be the weirdest, most engrossing take on politics ever!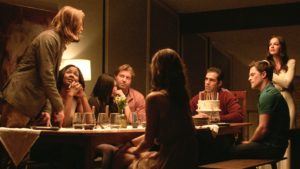 The Invitation
The Invitation is a master-class in suspense. Haunted by tragic events in his past, Will (Logan Marshall-Green) attends a dinner party hosted by his ex-wife and her new husband, where he suspects that a much more treacherous hidden agenda is in play. This psychological thriller is the definition of a slow-burner, but it is one that thrills in every scene. Jumping back and forth between ideas of paranoia and horror, The Invitation unapologetically takes its time to unravel the mystery behind it all and rewards those that stick with it til the end. With moody visuals, stirring performances (especially from Marshall-Green) and near-perfect direction, this movie leaves an impression that is hard to forget. Here's a little tip, whatever you do DO NOT WATCH THE TRAILER, as it suffers from the modern need to ruin every story before you get a chance to see the actual movie!
Don't Think Twice
Don't Think Twice fell victim to a very, very limited release across theatres in Europe, despite it being one of the best films of the year. The film follows six members of a struggling improv stage group after one of their members (Keegan-Michael Key) is drafted to a hit TV comedy. There isn't much to say about the movie that hasn't been said before: sitting at 99% on Rotten Tomatoes, it's fair to say that it is a bit of a critical darling. Incredibly true-to-life, this mature coming-of-age tale radiates with character, humour and sincerity and is more fun than most of the big-budget comedies you may have seen this year! Keegan-Michael Key (from Key & Peele fame) proves once again that he knows his way around a joke and illustrates his more dramatic abilities at the same time, while Mike Birbiglia's script shines a light on the struggle experienced by so many in pursuit of their Hollywood dreams. It may be too honest for some viewers, but Don't Think Twice is an endearingly authentic take on following your dreams.
Everybody Wants Some!!
After Boyhood was met with critical and commercial success in 2014, everyone thought that Richard Linklater (Dazed and Confused, Before Sunrise/Sunset/Midnight) would have his pick of the Hollywood A-List for his next picture. Instead, Linklater went back to his roots (so to speak) casting relatively unknown actors in Everybody Wants Some!! Described as a 'spiritual sequel' to Dazed and Confused, the film spends a few weeks with a group of charismatic college freshmen as they navigate their way through the end of the summer and the beginning of the rest of their lives. The movie sounds, looks and feels like it belongs in the 80's, with perms, aviators and bell-bottom jeans aplenty, all the while set to the songs of The Sugarhill Gang, Blondie, Kool & the Gang, Pink Floyd, and many more. With all that on the surface, the film also subtly touches on notes of immaturity and the male libido. Although they are mostly fun to be around, whenever the group borders being obnoxious or offensive with their views, Linklater is able to turn the joke on them, suggesting an almost cartoon approach to their actions. For most of the movie, however, they are a seriously hilarious and fun group to be around. Linklater is sure to make stars out of this young cast…
Tale of Tales
Inspired by the writings of Giambattista Basile, Tale of Tales takes place in three neighbouring kingdoms, where kings, queens and witches cause trouble within its walls. Simultaneously telling three different stories (namely of a king who obsesses over a giant flee, a queen who turns to dark magic in the hope of giving birth to a child and of two washerwomen who trick a king into falling for their fake beauty), this movie is a far cry from the Disney fairytales you may have grown up with. The vistas and visuals of these three Italian kingdoms are breathtakingly captured throughout, helping to highlight the true gothic nature of the stories themselves. However, even when the film shows its darker tones, an undeniable level of charm and surreal humour is still to be found, similar to that of the Grimm Brothers' original stories. It isn't for the faint hearted, but there is something very impressive about this lavish film.